About us
Dear friends,
We are glad that you have chosen to visit the website of Massage School Dexter Academy. Our job is to provide education in the field of massages and regeneration services. It is our aim to train regeneration workers, that will provide their services on a professional level. In our basic Massage Course (Retraining) we put great emphasis onto the practical part of the education, which is supervised by professionals from various fields: physical therapist, doctors and masseurs all with years of experience. We are of course also aware of the importance of the theoretical knowledge, primarily anatomy and physiology, therefore throughout the entire duration of the massage course this is repeatedly taught. The course is conducted in a pleasant form that ensures that the student will fulfil all the requirements for becoming a professional in providing massage and regeneration services after undertaking the course. We are proud to have been the first ones that could provide such wonderful massages as are the Hot stones massage and Hawaiian massage Lomi Lomi. Nowadays we still modernise these massage techniques thanks to our partnership with schools in Great Britain, Spain and the USA. In the field of cosmetic massages we promote innovations in Face Lifting, that we teach with the Dexter Academy London license which is very successful in the Czech Republic. Dorn's Method has also become a respected technique among the masseurs and rehabilitation workers and is taught by specialist of Dorn's Method, who are always in contact with their German colleagues and lecturers of the Dorn's Method. Whether you chose the basic massage retraining course or one of the complementary courses, that are all conducted by professionals in the given fields, our doors will always be open to you should you wish to consult anything or need advice about your own practise
We wish you a lot of success.
Learning DVD course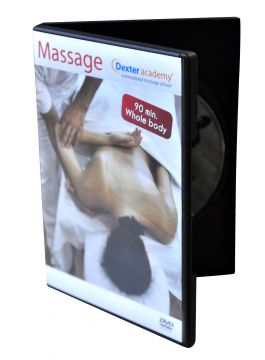 Learn how to massage at home. With our learning dvd disc. All the techniques you will see in detail shots as if you were sitting on a massage course.

Techniques shows professional Dexter Academy.